Bill is Presenting an Ethics Webinar for Geologists and Design Professionals on May 11, 2022
---
New York State Council of Professional Geologists in Conjunction with Midwest Geosciences Group presents:
How "Ethics" Define and Confine Corporate Culture Behavior
Learn how leaders leverage ethics to create a vibrant corporate culture
Ethics are a part of the very soul of an organization…indeed, of a person. They provide the moral compass, the belief systems, and the permissible (as well as impermissible) behavior that is a part of the company's identity. The ethics embedded into the culture can make for an attractive, fulfilling, and sustainable business – or can do quite the opposite if not crafted or defined well.
In this Webinar you will learn:
How ethics emerge – both in you and your company
How three, well-proven ethics can lead to behavior that is efficient and motivational
Learn the power of the "why" – how to teach reason over rules
How to use agreements to create ethical behavior
How to conduct ethical discipline
This Webinar, presented by Bill Truby, will help you see how ethics is more than a regulatory requirement. Rather it is an integral part of leadership success.
This course will earn you 1 PDH Credit which is required as part of the NY State Continuing Education requirements for Design Professionals. 
Pricing:
$100 for Members
$150 for Non-Members
Early Bird Discount – $25 off registration (now until April 15)
Group Discount – 5 or more individuals from one organization – $50 per registrant.
Register to Attend
To learn more or register at the event visit: https://nyscpg.wildapricot.org/event-4764697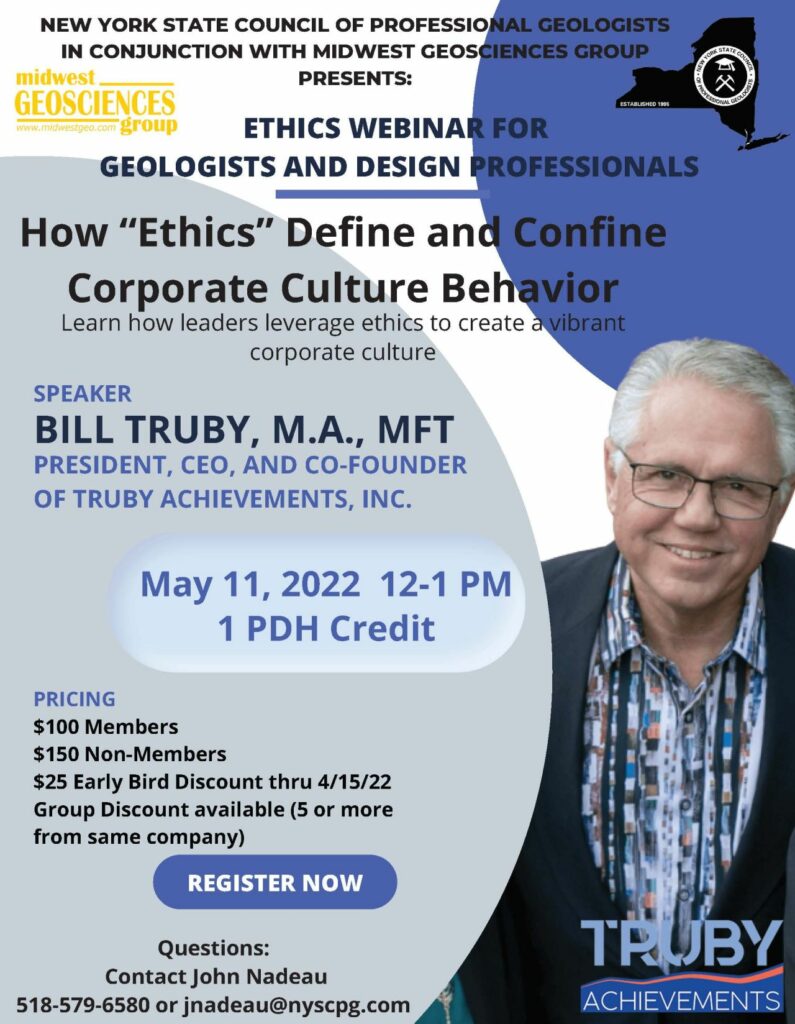 About NYSCPG
The New York State Council of Professional Geologists (NYSCPG) is the principal organization of professional geologists responsible for the advancement of the competent and ethical practice of geology in New York State.  NYSCPG's primary missions, on behalf of its members, are to strengthen and advance the application of geological sciences as a profession by providing leadership, advocacy, and education to promote the protection of public health, safety, and welfare, and the balanced protection of the environment.
---
Tanya Quinn
COO, Truby Achievements