Quick Stress Test
An Objective Assessment of the Amount of Stress You are Experiencing
What do I do with my results??
Contact us to learn more about how the Truby Management System can help you!
---
Get in Touch
Start the Quick Stress Test
Review the following list of stressors and answer yes or no for whether you have experienced each one in the past 12 months. Your results will be presented as part of a score range and will give you an indication of your stress load.
About This Quick Stress Test
Life is filled with what are called "stressors" which can weigh on different people differently. Stress management starts with understanding how much stress you are experiencing.
Stress can weaken your immune system, rob you of health, zap your energy, and negatively affect your interactions. If stress is not managed, the end result is burnout. You may FEEL stressed, yet not experiencing many stressors. OR, you can NOT feel stressed yet have a ton of stressors piled up on you. This quick stress test will measure objectively how much stress you are under – no matter how you feel.
Don't miss our free Burnout Assessment to review your burn out level.
Disclaimer: This test is not intended to diagnose or treat stress or its effects. Use this test as a reliable indicator, but consult your medical or mental health care professional for diagnosis and treatment. This is a self-test instrument to guide you on your journey of self-help.
---
Additional Resources
Below are some additional resources that support this self-assessment.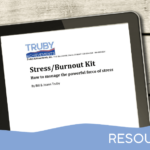 How to manage the powerful force of stress.