7 Key Leadership Skills (Plus a Self-Assessment to Evaluate Your Effectiveness as a Leader)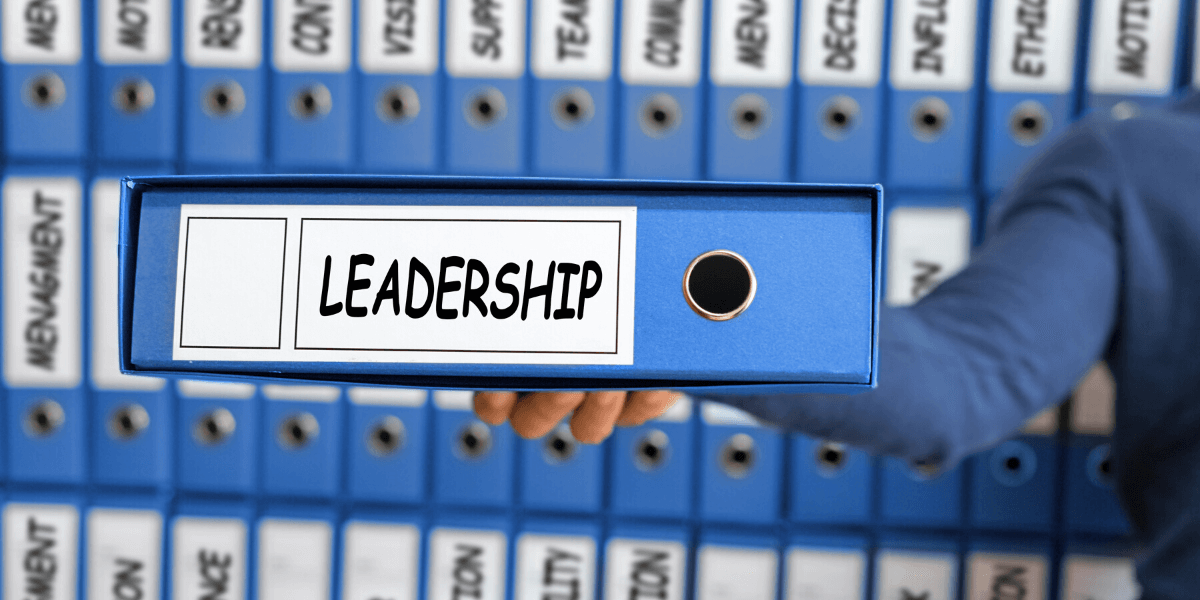 ---
Whether you consider yourself a leader or manager, there are 7 key leadership skills that can help you be successful. We call these "leadership" skills because the mindset in these 7 skills is more about leading the people (i.e. leadership), than managing the process (i.e. management). And that's the difference between leaders and managers. Leaders lead people. Managers manage process.
BOTH are important. However, a company can get by nicely with management abilities. But it will be limited, sometimes extremely limited, without leadership skills to accompany management.
But, more on the difference between leadership and management in a future post.
7 Key Leadership Skills
Hold efficient meetings… A leader brings people together in an efficient way to give them a sense of belonging.
Communicate… A leader always communicates clearly, inspirationally, and in an "other-centered" style – considering how to say what is needed so people can really hear it.
Delegate… A leader leverages his or her skills and talents by delegating. Further, delegation helps people grow. Gives them a sense of ownership and purpose.
Create a culture… A leader helps people understand the necessity of follow through – not only for the good of the company, but for the good of the team. We all count on each one in the team.
Use metrics… A leader doesn't make emotional decisions. He or she looks at data and facts to see how the team is doing. This allows for a better engagement to support, train, encourage, or celebrate achievements.
Resolve conflict… A leader doesn't let relationships, or the team, fray at the edges due to conflict or differences. A wise leader facilitates dealing with issues to closure.
Prevent personality differences… A leader understands that people have different styles and personalities. A good leader is a catalyst to everyone understanding everyone else's value AND the acceptance of differences.
How Are Your Leadership Skills?
Given the above skillsets, I'm guessing you would like to know how you are doing. We can help with that!
In our free Leadership Assessment, you can rate your abilities for each of the 7 leadership skills.
Start the free Leadership Assessment now.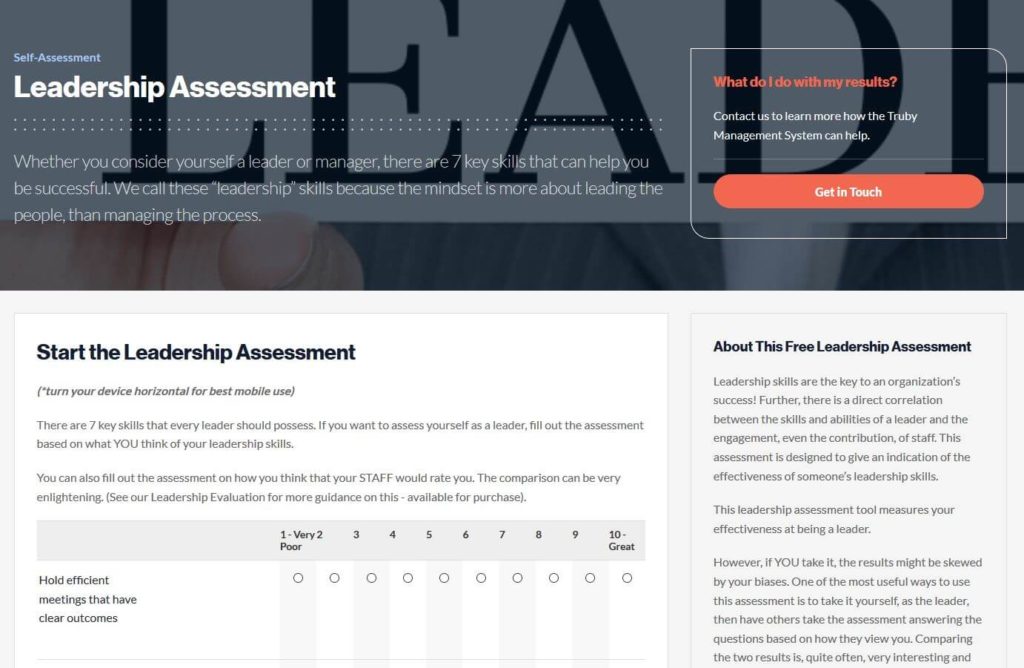 The results are presented as one single overall score that falls into one of four categories on a leadership assessment scale:
Great Leadership Skills (

Score 64-70) = You are maximizing the contribution of your staff.

Improvement Would be Helpful

(Score 44-63) = Your staff may not be able to fully engage with enthusiasm.

Improvement Is Necessary

(Score 29-42) = Your staff may not be able to meet their full potential.

Urgent Help is Needed

(Score 7-28) = Productivity and profitability are suffering, and your staff may be floundering.
And don't worry, if you don't receive the top score, your willingness to assess your leadership abilities (or others) is in direct proportion to your potential to be a good leader.
Don't get stuck in the result. That would make you a victim. Let the feedback motivate you to be better. Just like the vital signs associated with your physical health, this feedback constitutes the vital signs of your leadership health.
With the results of your assessment, we also provide recommendations for ways to start improving your skills in each of the 7 areas.
Perception versus Reality
However, let's talk a moment about perception versus reality when it comes to leadership.
You may THINK that you are a GREAT leader. But, thinking you are a great leader doesn't really count for anything if your team doesn't feel the same way.
In other words, your PERCEPTION of your skills may not be the same as the REALITY of what your team thinks of your skills.
We were approached by a manager in an engineering firm who was the leader of a 45 person regional team. The company LOVED his performance – based on the numbers. Profitability, productivity, and resource management were better than anywhere else in the company. However, he also was tortured by a 47% turnover. He was on the top of his game when it came to management skills. But his leadership skills were almost non-existent.
After using our leadership trainings, within 10 months, his turnover rate dropped to 2% AND his business metrics were still right where they were before – in some cases even better. Clearly, there is a need for management skills in any business. But leadership skills make the company, and its success, sustainable.
Conduct a Leadership Evaluation using the Leadership Assessment
The Free Leadership Assessment was designed as a self-assessment to consider your own leadership effectiveness and identify areas for improvement.
However, if YOU take it, the results might be skewed by your biases. One of the most useful ways to use this assessment is to take it yourself, as the leader, then have others take the assessment answering the questions based on how they view you.
Comparing the two results is, quite often, very interesting and can help you improve your leadership effectiveness.
The evaluation can be done with your team evaluating your effectiveness or as a 360° evaluation where you also include your boss and possibly a few colleagues at the same level as you. The instructions work the same for either scenario.
You can also use this to evaluate the leadership effectiveness of another leader on your team. The possibilities are endless, but the instructions are the same.
If you want help with this, we've created a quick workbook for a Leadership Evaluate using our free Assessment Tool. It's available for purchase on our website for a low price of $5.95.
Purchase the Leadership Evaluation Workbook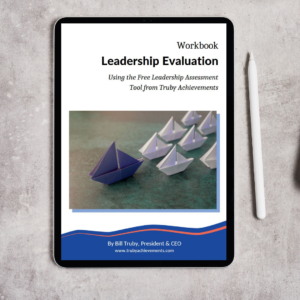 Importance of Leadership Skills
Leadership skills are the key to an organization's success! Further, there is a direct correlation between the skills and abilities of a leader and the engagement, even the contribution, of staff.
And, since this is true, a good assessment of the success of a company or a team is to assess the effectiveness of the leadership. The 7 key leadership skills in this article are good indicators of success… or lack of it.
Where do you and your company stack up?
Start the Leadership Assessment right now to find out.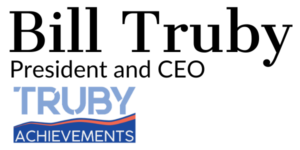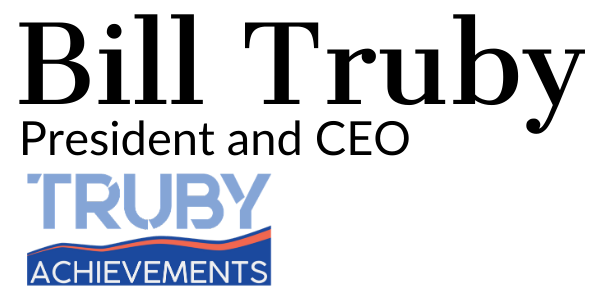 You can also follow us on Social Media for more content:
LinkedIn  |  Facebook  |  Instagram  |  YouTube
---
Bill Truby
Founder and President of Truby Achievements