Self-Paced Leadership Training Program
Upgrade Your 3 Most Important
The Truby Management System equips you with everything you need to confidently
Lead People, Implement Processes, and Grow Profits — faster than you thought possible!
Hire & Retain High-Performing, Accountable Employees Who are Motivated and Take Initiative
Equip Team Members with Proven, Efficiency Systems that Decrease Stress and Enhance Productivity
Develop ROI Thinking and Practices that Create Sustainable Growth and Profits — with No Extra Effort
If given a dose of truth serum, most people in leadership positions would reveal this uncomfortable secret…
Here are the top 9 reasons why leaders burn out & fail
#1 Retention Issues: You have a weak onboarding process that creates costly turnover and causes you to lose staff faster than you can hire
#2 Lack of Accountability: You waste lots of time and energy on oversight because you can't trust employees to follow through
#3 Vague Structure: Your people don't fully understand and own their roles and responsibilities so you have to spend time telling them what to do
#4 People Problems: You're spending much of your day putting out HR fires and dealing with complaints, venting, and "petty people problems"
#5 Mistaken Motivators: You miss out on business growth because you aren't able to clearly articulate or align with your unique value proposition
#6 Uninspired Vision: You're too busy in day-to-day operations to think through longer term growth strategies and business development
#7 Incomplete or Inefficient Systems: You're constantly using time and energy trying to create ad hoc processes instead of sustainable systems
#8 Inertia: You keep making the same mistakes, or experiencing the same problems over and over, not finding a systemic solution
#9 Lack of Practical Training – The Biggest Problem of All: You've simply never been adequately trained to handle the real-world leadership challenges listed above
That's why we set out to develop a
Leadership Training like no other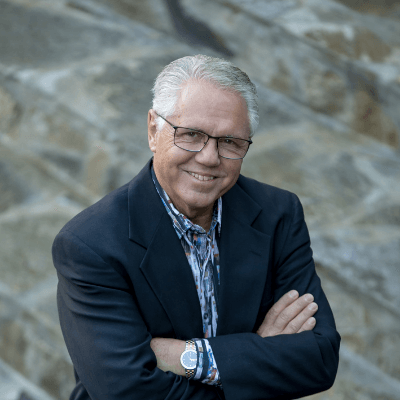 For over 40 years, Bill's been helping business owners.
Bill has installed his common sense leadership and management system in thousands of companies leaving an amazing trail of success stories. An engineering firm whose turnover went from 42% down to 2% in just three months (and stayed there). A hardware store that doubled it's profits in just one month (and stayed there). A 55-million dollar remediation project that finished under budget, under schedule and with zero litigation. Countless leaders who have found work/life balance and less stress. An enormous amount of team members who, not only become self-motivated and accountable, find meaning and purpose in their roles and responsibilities as they achieve astounding results – they no longer are just "doing a job!"
Finally, a leadership trainer you can relate to.
Bill is not some professor-type educator who hides behind theories and the latest, franchised program. Nope. Not only has he been there as a successful entrepreneur, he's a down-to-earth (humorous) "guy next door" with an engaging style. His multi-dimensional background brings more than knowledge to the table – it brings wisdom. He grew up on a cattle ranch, giving him the foundation of a commonsense and practical perspective. He has a B.A. in Theology, giving him deep roots in meaningful purpose in living life and conducting business. He has a M.A. in Psychology and was a successful Marriage and Family Therapist. A musician, the "go to guy" for family members, and an intensely loyal friend, Bill is simply the guy you go to when you want to ask the question, "How do I…..?"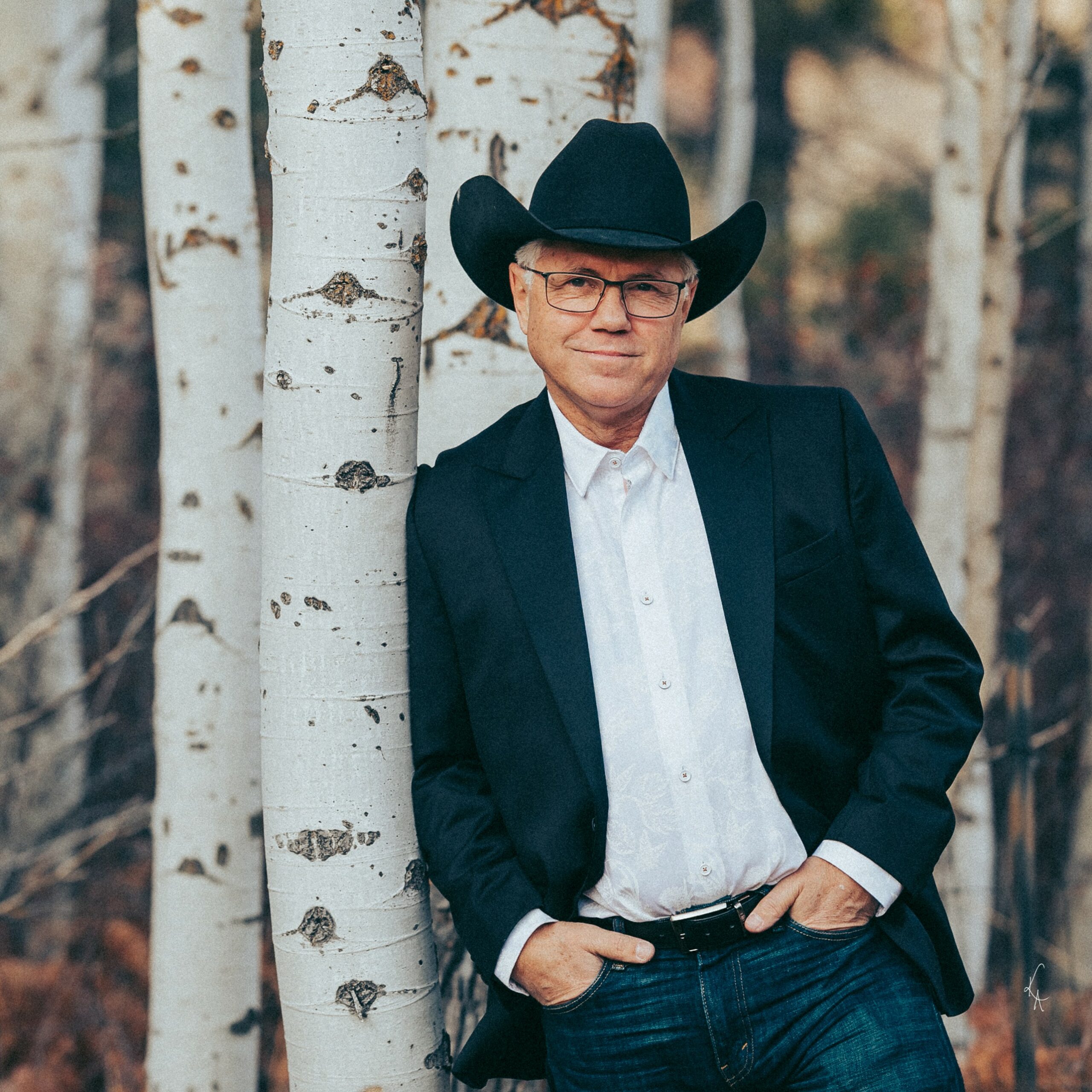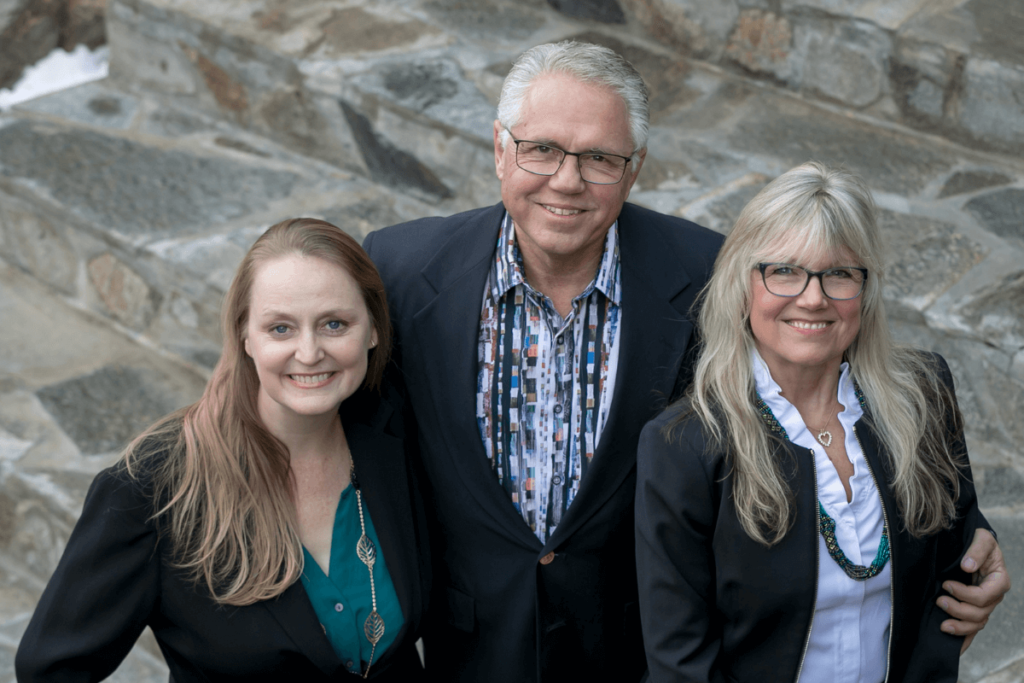 Mission-driven product, process, and pricing.
Mission-Driven Product: After 40 years of successfully implementing the Truby Management System for thousands of leaders and businesses, Bill and his team have reinvented the delivery model to fulfill the mission of getting it into the hands of every leader in America.
Mission-Driven Process: Because time is one of the biggest obstacles for today's leaders and managers, the training process has been chunked down to high-quality, short training videos – the majority of them under 15 minutes. But they are still practical, powerful, and proven. Leaders say, "I watched the video, and instantly knew what to do!"
Mission-Driven Pricing: Money can be another obstacle for people. We've addressed that issue. Bill's consulting fees are $5,000.00 per day. However, using the economy of scale, and the convenience of online delivery, we've been able to price our Truby Leadership Training at less than $3/day. We have done everything in our power to make this investment easy, accessible, and excessively affordable for you.
Why? Because we're on a mission to lift up as many leaders as possible.
"My business realized a 60% increase in productivity in just 2  months"
After just going through just the first section of training on transforming your team, productivity increased by 60% and it stayed that way. What's more, people didn't feel like they were working any harder.
– Bob Baker, Print Shop Owner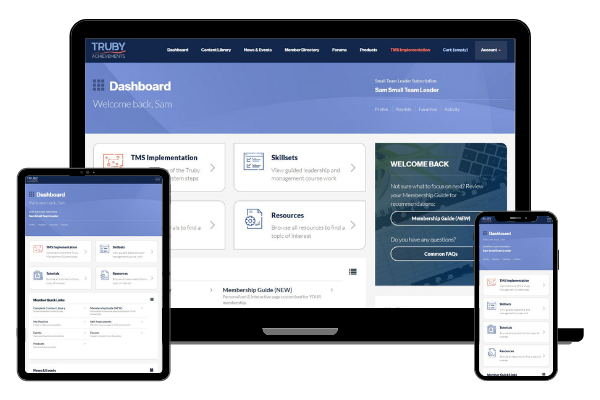 Proven. Practical. Profitable.
Your Membership Includes Over 100 "Bite-sized" Tutorials…
Modules on Communication
Successfully interact with anyone!
Modules on Teamwork
Develop accountable teams
Modules on Business Growth
Attract more business and grow
Modules on Leadership Skills
Be confident, respected and followed
Modules on Accountability
Accountable & self-motivated teams
Modules on Productivity
Do more with efficiency systems
Actionable Tools & Resources
Assessments, & downloadable tools
Monthly Group Calls
Member meetings to amplify learning
Become TCPL Certified
Truby Certified Professional Leader
"Like an MBA, only 50x better"
"I learned more practical tools and methodologies from the Truby Management System than I did in my MBA program."
– Peter Townsend, Seasoned Owner of an Architectural Firm
How We Train People to Confidently Lead
Instantly Actionable
Learn a new skill today, implement it, see results immediately.
Personalized to Your Needs
Got a burning question about your team or business? Use our tutorial search & learn how to handle any issue quickly.
Highly Relevant
Every individual teaching is practical and addresses your real-world issues. It's based on commonsense and works!
Self-Paced, 24-7 Access
Complete the training within 12 months or, if you're ambitious, 12 days. It's up to you!
Bite-Sized
Every tutorial is short and easy to follow, with most trainings less than 15 minutes. Perfect for time-starved modern brains.
Chock Full of Tools
You'll love how many downloads, assessments, and practical tools we've curated for you.
Comprehensive
We found the sweet spot: everything you need to be a better business leader, nothing you don't.
Interactive
Ask the Truby Achievements team or the members community your questions to get swift, useful feedback.
Sticky & Sustainable
Years after completion, our students still rave about teachings that impact their daily leadership lives.
"I wish I'd found this training earlier in my career"
"I never went to business school and was always flying by the seat of my pants. I've been relatively successful but never confident in my role. After putting the TMS into place, my business is much more profitable, easier to run, and growing. But the most important thing for me is, I am now more confident. I know how to be a leader. And I know how to run my business!"
– Jeff, Hardware/Building Supply Owner
Your 12-month subscription includes…
24/7 access to the Truby Management System training
Over 100 self-paced tutorials that will vastly improve your leadership skills
Monthly, interactive Zoom member meetings
Certification to add to your title: TCPL – Truby Certified Professional Leader
Alumni pricing after the first year – your membership fee drops 80%*
100% satisfaction guarantee
* After the first 12 months, just $19/mo. Cancel anytime. 
* After the first 12 months, just $219.95/yr. Cancel anytime.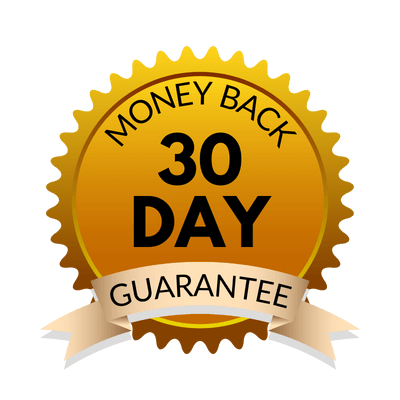 We have so much confidence in this leadership training that we guarantee your 100% satisfaction. If within 30 days you don't believe this is the best training you've ever experienced as a business leader, we encourage you to reach out to us at support@trubyachievements.com so we can promptly refund your tuition, no questions asked.
Co-founders of Truby Achievements, Inc.
Truby Achievements, Inc. is the culmination of Bill Truby's life work. Over 40 years of learning has brought this company to a seasoned maturity in how it brings success to leaders. Joann Truby's contribution began over 20 years ago and propelled the company into greater insights and abilities. Together, these co-founders lead a team of people who find immense pleasure in helping others be successful – in personal life, relationships, and business.
Bill brings the background of common-sense learning (being raised on a cattle ranch) a B.A. in Theology, M.A. in Psychology, been a practicing MFT (Marriage and Family Therapist) and nearly 30 years of real-world-experience business practice to the table. Joann brings a lifetime of being an athlete, having been a multi-year, national champion in artistic roller skating, then holding many roles in the fitness industry, including management, personal training, program development, and an instructor.
These multiple perspectives and backgrounds synergize to bring an amazingly simple, yet powerful tool that has been proven over and over to give stellar success. In short. We've done it. Multiple times. In real word situations. And our passion is to share these success principles with you.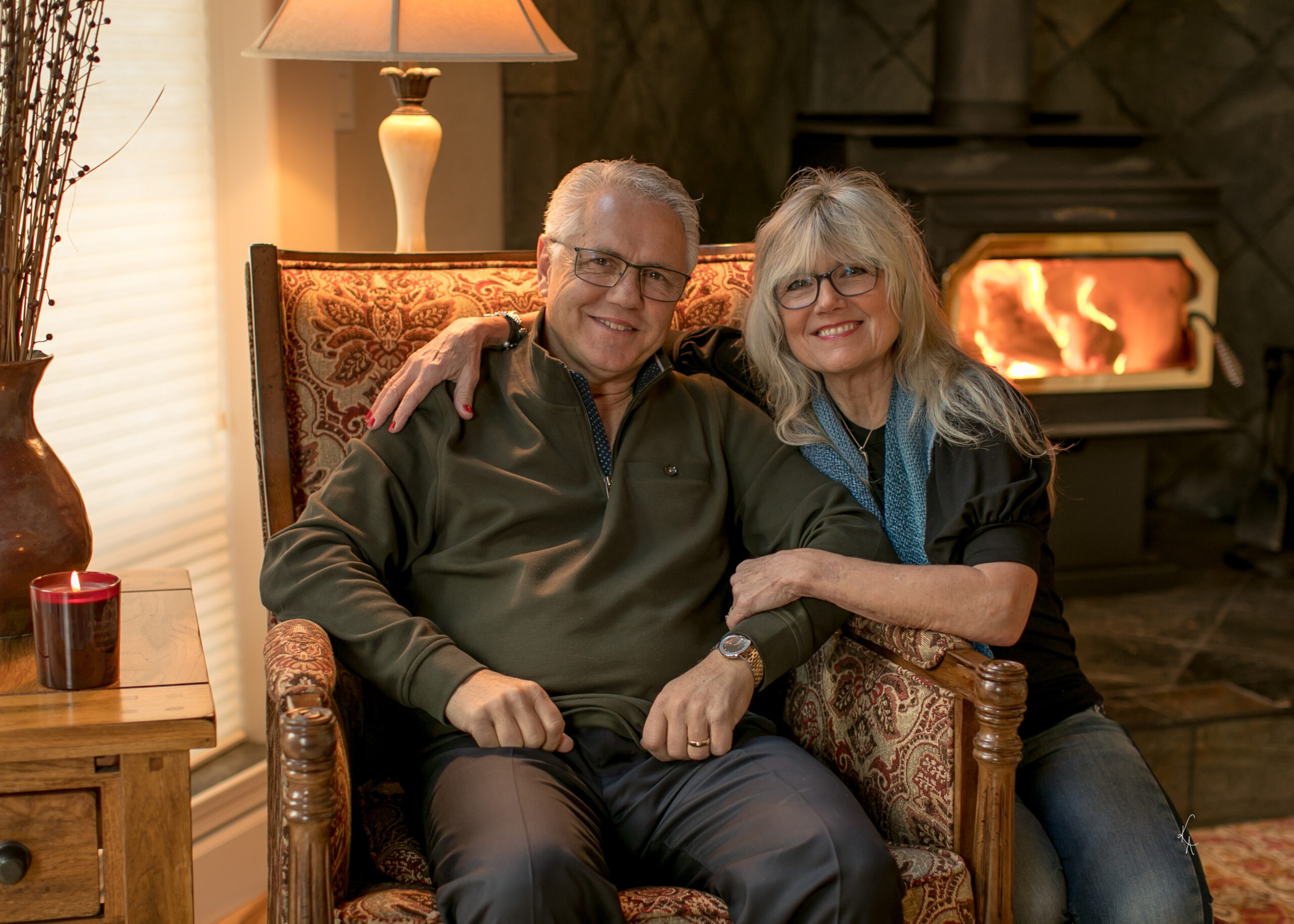 Here's what the Truby Achievements System has done for others…

"We recently commissioned a series of training videos and are rolling them out to our team. The videos are a very cost effective and convenient way to provide training to existing employees and new hires as they join the company. I'd highly recommend Truby Achievements training videos."
– Vince Daco, Senior Principle, Quantum Management Group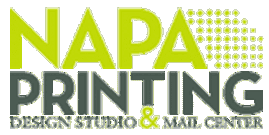 "Not more than two years ago, I wanted to sell Napa Printing & Graphics. There were just too many frustrations, most of them employee related… Through your training, which included communication skills and team building, the results were immediate. We learned how to communicate better, solve everyday problems in a more efficient and permanent manner… We became a team."
– Bob Johnstone, Owner, Napa Printing & Graphics

"If I am able to apply half of the knowledge that was presented in the course to my professional and person life; I will increase communication exponentially, double my production, and minimize confrontation. I would highly recommend this seminar to anyone, in any profession, at any level of responsibility. The course provides critical tools for managing a high-performing team, while providing insight to manage your own personal life from a position of strength and control."
– Matthew Damos, P.E., Water Agency Engineer. Sonoma County Water Agency
What does it
REALLY

take to become a highly effective leader?
"Successful business leaders are 'born that way'."
Not true! In reality, the most successful leaders are constantly learning, working with mentors & coaches, and testing new tools to find a better approach. 
"I need an MBA to be a successful leader."
Not true! Many of our students report that the Truby CommonSense Leadership program is BETTER than an MBA.
"Actually, our biggest issue isn't my leadership, it's the employees."
Not true! Tons of research disprove this myth. Your employee performance is a DIRECT result of your leadership performance. Nothing trickles up.
Frequently Asked Questions
How does the pricing and timing structure work?
Our business success model teaches you everything you need to know to transform your business and become an excellent leader and manager at the same time. We will quickly transform your people into a high-performing team and eliminate all of your people problems. Then we move into organizing, mobilizing and optimizing your business. Throughout this process your ability to operate with ease, grow your business, dramatically increase your productivity, and maximize your profit…all increase daily.
It takes a few weeks to transform your team, about a month to organize your team and business, 2 to 4 months to mobilize your business with a strategic plan for growth, and 2 to 4 months to optimize it with efficiency systems and continuous improvement processes.
Though you will begin receiving benefits immediately, it takes approximately 10 to 12 months to fully transform your business to become a growing, sustainable, smooth-flowing and profitable organization. Our pricing structure reflects this.
During your first year of membership, the membership fee reflects the high level of engagement, learning, and implementation experienced. However, we remind you, it's not time-consuming in that you are not trying to learn or do a lot of new things. Rather, you are simply learning how to do what you already do differently… better… with stellar results.
After your business is transformed, your membership content becomes a ready resource library, a continuous improvement tool, and a method for training new hires. Additionally, you retain access to all of the new content Truby Achievements develops, the assessments, plus interaction with other business owners and leaders in your industry. The membership pricing after your first year of engagement reflects this – we take 75%, OR MORE, off of your initial fee as an ongoing loyalty discounted price.
*Note: Support packages don't have a reduction in fees after the first 12 months due to the high-level of support interaction and engagement, and it will be our pleasure to continue an active support relationship should a company wish to continue. Alternatively, a company can purchase a team membership, or multiple team membership for various departments, as they wish.
How much time is this going to take me?
We've been asked this question so many times, we realize it's at the heart of concerns for trying something new. And, we have good news…
Certainly, there is time needed to learn and implement the trainings. But the impact is minimal. Why? Because, with the exception of two of the trainings, all of the others (nearly 60) are only a few minutes long. We've designed the training to be in the form of "bite-sized" learning. Plus, we guide you on what to do first, second…and so on. You can take these small steps at your own pace. As slow as you need, or as quickly as you want.
Another aspect to the learning is this: This is not a program you overlay onto the work you are already doing. Instead, it teaches you how to do what you are already doing – differently. In other words, many leaders find they are wasting time by not executing simple leadership, management and business principles correctly. Shifting HOW you do what you do, not only saves time, but continues to save that time for your future.
Leaders report, the overall experience is not time-consuming, but time savings.
What powers the Truby Achievement System's success?
TMS is what makes a business flourish. But what powers it? Leadership. A leader with a certain mindset and specific skillsets creates the astounding results and sustainable success. To be that kind of confident leader who can handle anything that you encounter, here are some of the skillsets you need…
Operational and business excellence
Empowering high-performing teamwork
Personal mastery confidence
Communication and interaction effectiveness
accountability calibration set points
Strategic growth initiatives
Low performance elimination
Incidentally, your Truby Achievement's Membership will teach you these skillsets, and much much more!
How easy is it to implement?
When you watch a tutorial, you're going to learn how to look at the topic from a new perspective. We'll show you how to implement the leaning based on that new perspective. And what you're going to find is that you are not doing a bunch of new and different things, you're simply doing what you already do differently – but with amazingly new results. 4 decades of proof give us the confidence to say, it WILL work for you too!
Our process works from the inside out. It's not a program that you overlay onto your business. It's a new way to think, which automatically causes you to do things differently. We call it a mind shift. And that kind of change happens instantly, and is sustainable. You continue to "do" differently because you "think" differently.
More Leadership Skills = More Personal Power
This training goes well beyond your business. Everything in your life — your relationships, your self-confidence, your motivation — can and will be enhanced if you take this training seriously. This is a risk-free, satisfaction-guaranteed investment in your personal and professional development.