LIMITED ACCESS … Each course open to Only 12 Attendees
Increase your Personal Mastery
Personal Power
and Self-Confidence
Learn How to Unleash the Power Within
Do any of these attitudes and behaviors apply to you?
Are you hesitant in your interactions and secretly looking for approval?
Are you easily swayed by others, or sometimes react in ways that surprise you?
Do you keep second guessing what you said or did?
Are you fearful and insecure in the presence of some people and not so around others?
When interacting with others, do you respond with words or behavior in ways you wish you wouldn't have?
Are you secretly wishing you felt more confident and could stand up for yourself?
Many people have weak self-confidence and are painfully aware they lack personal power. They have a hard time setting boundaries. They wish they could live life more confidently, without fear, and without insecurities… Does this describe you?
Introducing our Personal Mastery Course
A Personal Message from Bill Truby About this Life-Changing Course
This EXCLUSIVE Course Will Help You…
Understand yourself and figure out "what makes you tick."
Find blind spots that unknowingly annoy to others.
Learn tools to deal with personal dysfunction.
Improve relationships (personal & professional).
Most importantly, develop personal mastery, personal power & self-confidence.
YOU probably qualify. How do I know this? Because you're probably like most people I've worked with, the majority of whom want to grow their personal mastery, personal power, and self confidence. 
I'm guessing you want to grow, too. How do I know this? A clear clue is that you're still here reading this.
But, really, the simple truth is this… people who want more personal mastery, personal power, and confidence don't need to be convinced they do. They just know it! Take a moment to stop and look inside. You'll know it, too. 
What is the main reason people don't have a sense of personal mastery?
In my private practice and career coaching business owners and leaders, I found that well over 95% of my patients and clients were what I called "copers." They had a faulty mindset or perspective, suffered some childhood traumatic event, or simply never learned how to live a psychologically healthy life. They learned to cope. And when you're coping, it doesn't feel like you're coming from a place of mastery, power or confidence.
This course will help. I'll teach you what I taught my clients. I showed them how to have a new perspective, a clear path, simple tools to cleanse from the past, and techniques to experience the ultimate goal which is "To Live life freely, on purpose, with purpose." THAT is living a life from a place of personal mastery, manifested in personal power and self-confidence.
Joann and I absolutely LOVE helping people live life more confidently and with personal power!
My name is Bill Truby (MA, MFT). I'm a licensed therapist with decades of experience in helping individuals, couples, families, and corporations eliminate problems and live in peaceful success.
This training specifically focuses on an individual, working from the inside out. The course helps you find the roadblocks to peace and happiness, then develop skills to live life with calm confidence.
The content of these training classes has been time-tested over the past four decades. The book, No Two People See the Same Rainbow, authored by Bill & Joann Truby, as well as their PGI (Personal Growth Intensive) have been venues where this course's training has been taught – and proven to be life-changing!
However, for this course, I have added more content, deep training, and updated tools to help a person find personal freedom, a calm and peaceful existence, and joyful happiness.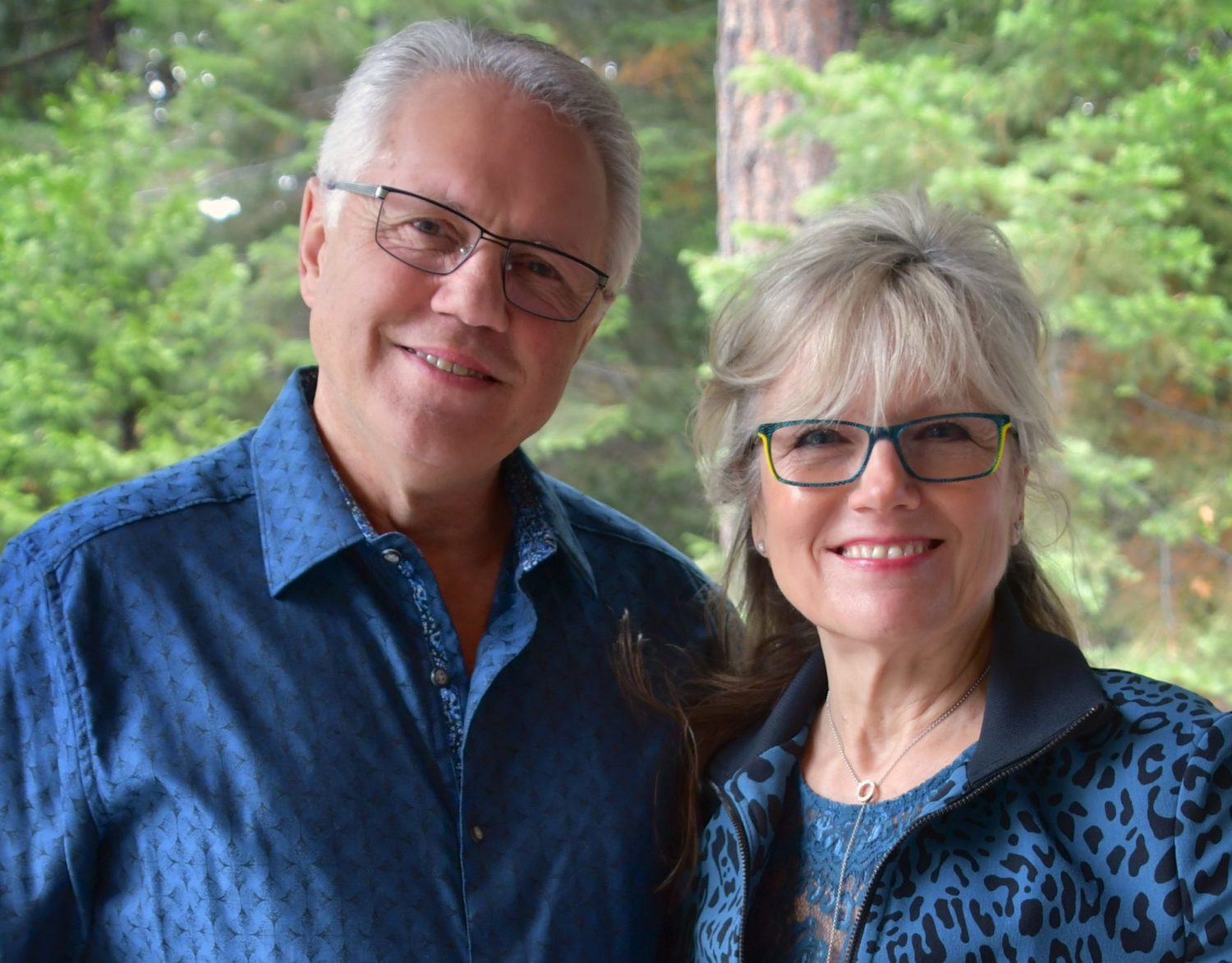 Bill and Joann Truby
Co-Founders of Truby Achievements, Inc.

Five, 2-hour live, interactive training sessions (via zoom). Details for each session are provided below.
Truby self-help book, No Two People See the Same Rainbow (Your choice – paperback or E-book).
Bonus session of closure, celebration, and graduation.
A personal, one-on-one coaching/training session with Bill Truby.
Whatsapp access to Bill Truby for sharing or to get answers to quick questions.
Access to ten high-quality video tutorials for supplemental training:
Communicating with Different Personality Types
How to Deal with Passive Aggressive Behavior
How to Remember Names
Live a Balanced Life
Stress Management
Breaking Habits
How to Have a Healthy Self-Esteem
Finding Blind Spots
Discovering Your Purpose
Conflict Management
Live 2-Hour Group Classes Led by Bill – COURSE CONTENT
Bill may adjust or add class topics to tailor his instruction to the participant's needs and/or to support certain training content.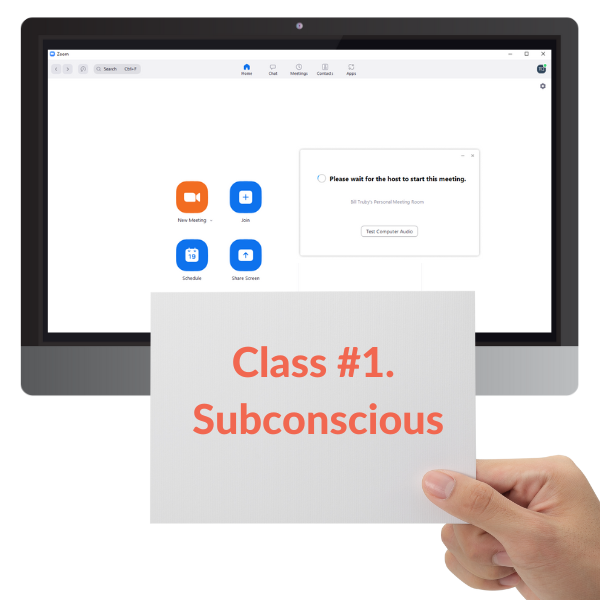 Tuesday, January 9, 2024, 4:30 – 6:30 pm PACIFIC TIME
Class #1: A peek behind the curtain of our subconscious – the driver of personal mastery.
Explore psychological, biological, and sociological influencers that weaken personal power.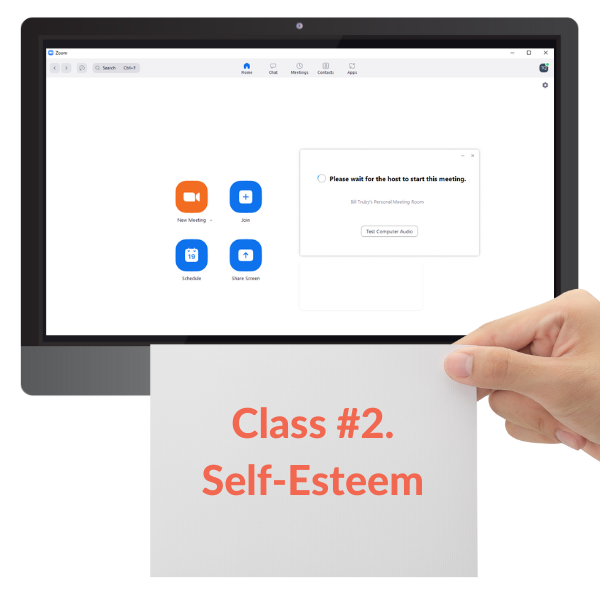 Tuesday, January 16, 2024, 4:30 – 6:30 pm PACIFIC TIME
Class #2: Understand a psychological model that explains and predicts your attitude and behavior.
When you know where the power center is, you can begin to manage it. That creates positive change.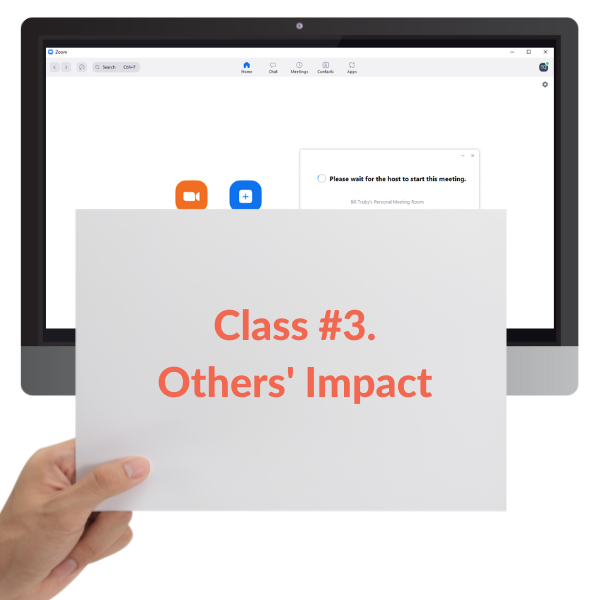 Tuesday, January 23, 2024, 4:30 – 6:30 pm PACIFIC TIME
Class #3: Understand a psychological model that explains and predicts all human attitude and behavior.
This simple and astounding model helps you clearly see where the "chains" are that prevent you from living life freely AND hinder your personal power.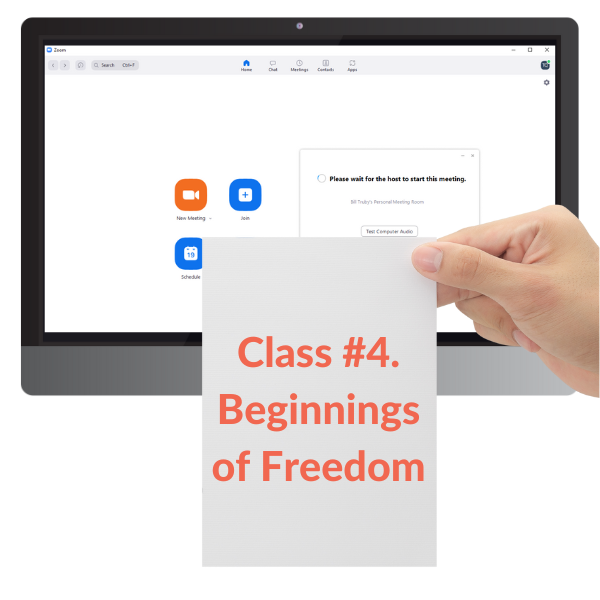 Tuesday, January 30, 2024, 4:30 – 6:30 pm PACIFIC TIME
Class #4: How to have a healthy self-esteem. THIS class gives you WINGS!
Explore psychological, biological, and sociological influencers that weaken personal power.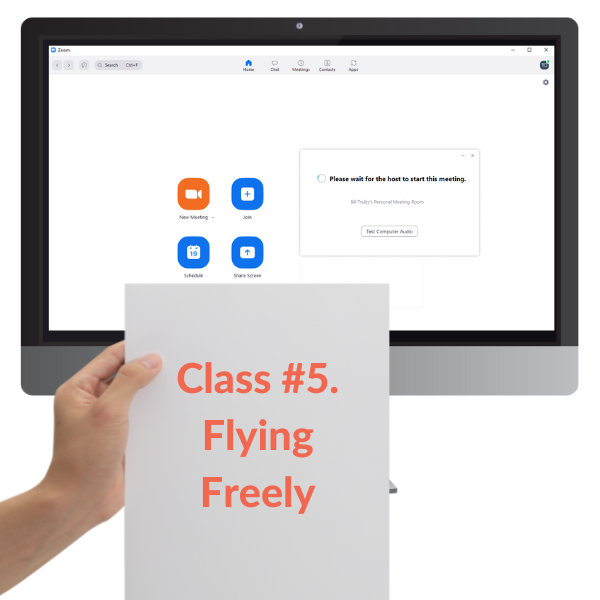 Tuesday, February 6, 2024, 4:30 – 6:30 pm PACIFIC TIME
Class #5: Learn how "you" are revealed in relationship, and how to retain your personal power, set boundaries, and live a balanced life.
Learn how to live life with zero guilt, and continuous growth.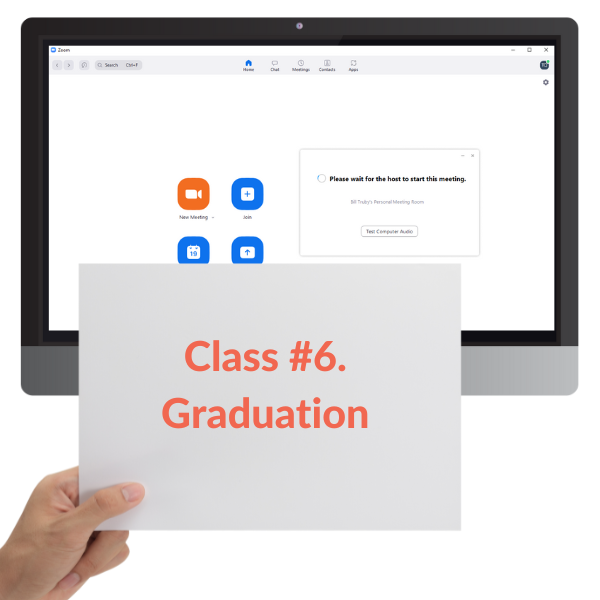 Tuesday, February 13, 2024, 4:30 – 6:30 pm PACIFIC TIME
Bonus Class #6: Graduation – Flying free – living life freely, on purpose, with purpose, with consistent personal mastery, personal power, and self-confidence.
An interactive follow-up class to debrief, interact, ask questions, and "graduate" from the course.
Don't Miss Your Spot – Each Course Only Open to 12 Students
Register for the Course Now
Class #1 – Peek Behind Subconscious (Valued at $395.00)
Class #2 – Healthy Self-Esteem (Valued at $395.00)
Class #3 – How Others Prevent Our Growth (Valued at $395.00)
Class #4 – Beginnings of Freedom (valued at $395.00)
Class #5 – Flying Free (Valued at $395)
Bonus Class #6 – Graduation (Valued at $395.00)
Book – No Two People See The Same Rainbow (Valued at $29.95)
One 90-minute, 1:1 Coaching Session (Valued at $250.00)
Whatsapp Access to Bill for Assistance for 4 Months (Valued at $2,000.00)
10 Personal Growth Tutorials (Valued at $499.50)
Our Normal Price = $1,650 Lump Sum *
Special Limited-Time Holiday 2024 Pricing = $795 Lump Sum
 -OR-
Optional 3-Month Payment Plan = $265/Month (Dec, Jan & Feb)

Not sure yet? Take our free 30-minute class on December 6th to learn more.
I was looking forward to taking this course. And now, after only two classes, I get to choose to break the feeling of control over me. Whatever causes me to go against what I really want to say or do. I have the power of choice in EVERYTHING! Every response, every thought, every direction I take. I create my life I want. I create the way I behave. I am free to understand my own process without shame or guilt, which also allows freedom to let go even when I mess up. This program has helped me shift my thinking, which has changed my emotions. My confidence and self-awareness are in line, and I am released from the chains that used to bind me.
Katie Rodriquez
Take the top 100 personal and professional development books in the country, read all of them with 100% comprehension, and what you will get pales in comparison to what you receive at this Personal Growth Intensive.
Dan, Surgeon
I've never attended a course that so positively affected my perspective on relationships and life.
Rick, Project Manager
Since I attended your personal power training, I continue to feel happy, free and confident. It's great!
Joan, Scientist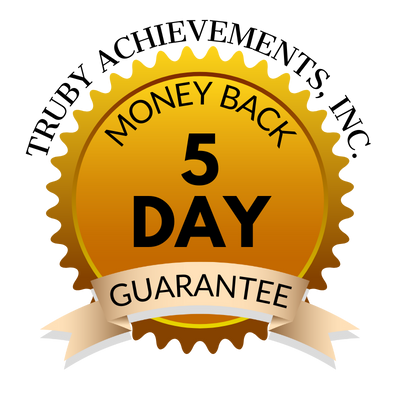 We promise this works…
And it's backed by our Truby Achievements Guarantee.
All the training in the course works together to produce an amazing outcome so I want to do everything I can to ensure you stay in the course.
However, if you aren't comfortable with the content after the first class, I will happily refund your lump sum fee or your first class's charge if you cancel your place in the course within 5 days following that first class.
Frequently Asked Questions about the Personal Mastery  Course 
How much of the 2-hour classes will be open for discussion?
Each class will spend the bulk of the time in instruction. Though there can be interaction within the class, if the training content is intense, the last 15 minutes will be saved for Q&A and volunteer sharing.
Will I be asked to share personal information with the group?
Though this course is focused on PERSONAL mastery, power, and confidence – you won't have to be vulnerable in front of others. You will never be required to share your personal discoveries or even your achievements and growth. There will be times for volunteer sharing so as to express your growth and inspire others. But it will be completely optional.
There will be optional assignments and homework to enhance your learning and make it personal. The assignments come from proven practices conducted by Bill Truby in other personal growth venues. Each is designed to explore and experience his training delivered in the class more deeply.
What if I can't attend a live class?
In case you have to miss a class, each will be recorded and available until midnight the day before the next class.
When can I watch the 10 Personal Growth Tutorials?
The 10 supplemental training tutorials will be available throughout the course. You can access them anytime you want. After the course is finished, you will no longer have access to these trainings, however the ENTIRE Truby Achievements Membership library can be yours for a discounted fee. Ask for details.
When can I schedule the coaching session?
The included one-on-one coaching call with Bill can be scheduled anytime you think is beneficial for you. You may want to schedule it early to help with exploring your basic issues or schedule it later in the course after you've learned some basics. You may want to schedule it at a time you are confused about how the learning applies to you or schedule it after the course is complete and before the Bonus/Graduation class so as to discuss how to implement all the training in your life. One benefit to scheduling early is this; if you wanted more sessions after the free one, you can schedule time with Bill throughout the class for a fee – $225.00 for each 90-minute session.
If you always do what you've always done…you'll always get what you've always gotten!
If you're still here, reading and thinking – maybe with your finger poised hesitantly over that big orange button – there's obviously something about this course that has your attention. You might be feeling cautiously hopeful and ready to take a chance or flat out terrified that this might be something else that you've tried, then failed at.  You aren't alone.
We've all hesitated over that buy button before – and usually the greater the potential for reward on the other side of the button, the more paralysis we experience.
Just remember – there is no risk. The first class is free. Then, you have 5 days after the first paid class to opt out for a full refund. 
If you are experiencing the problem of weak personal power, go against that weakness and reserve your spot now. You won't regret it! 
* Open to the first 12 students.